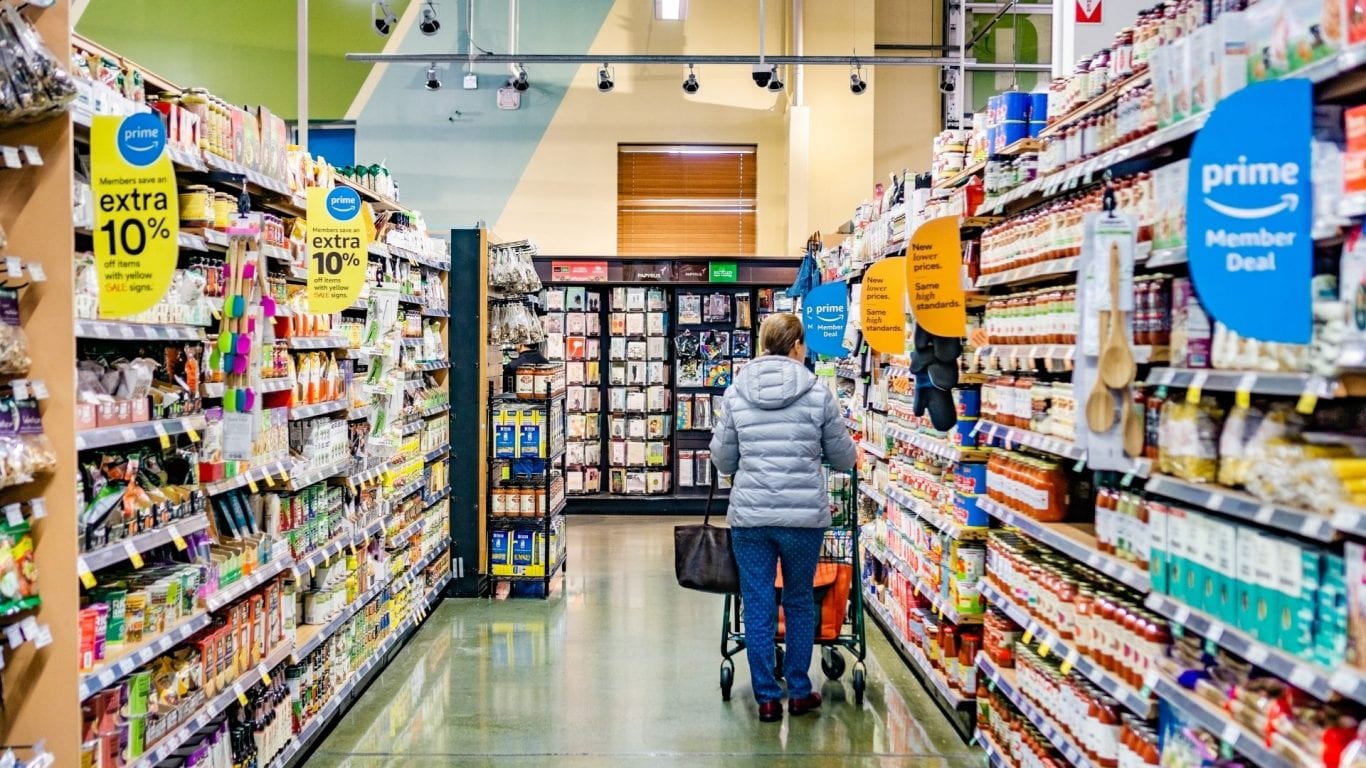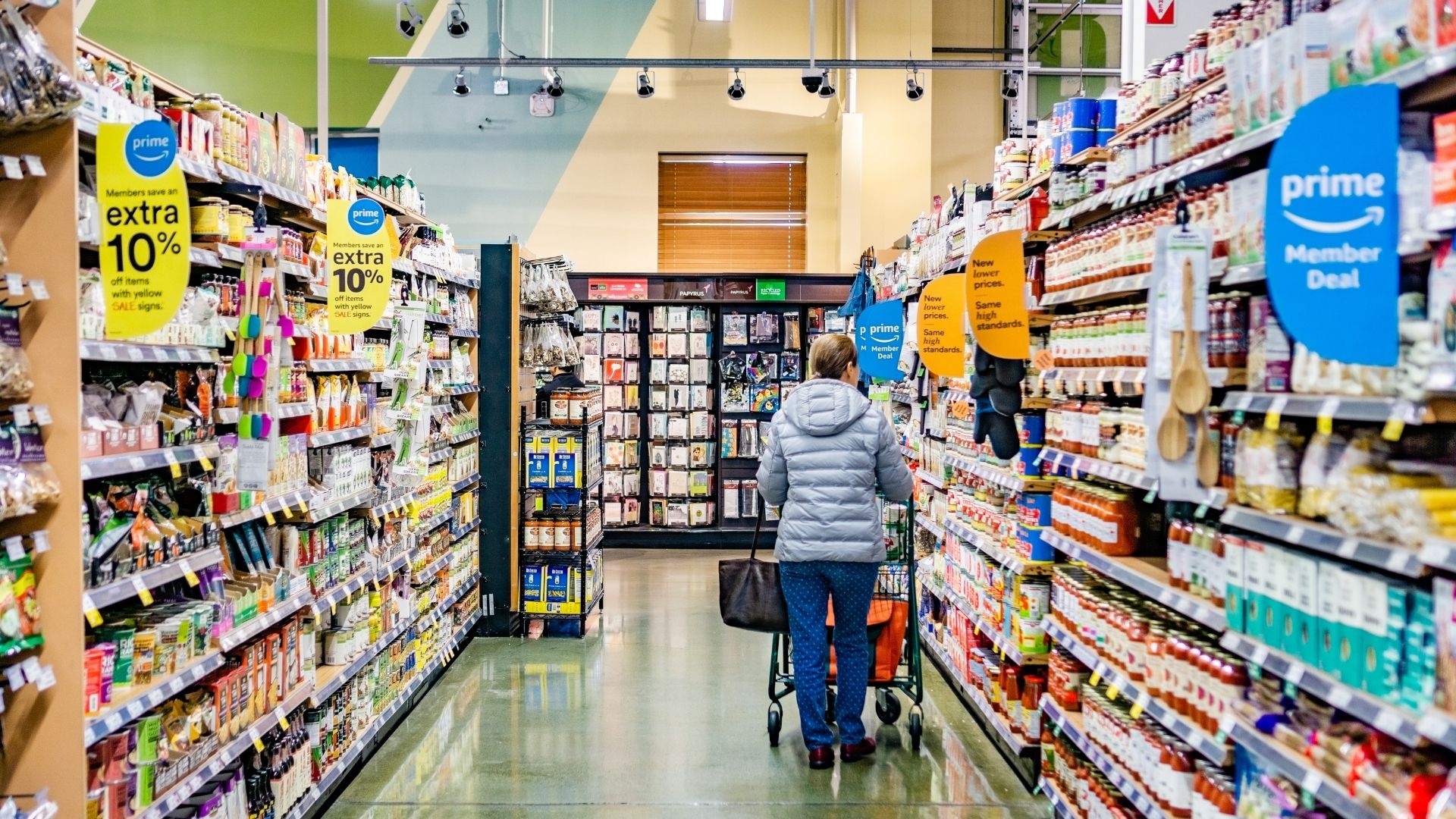 What is Amazon Fresh & how is it changing convenience store layouts?
Amazon Fresh has recently launched three stores in London after the success of its twenty-six AmazonGo stores in the US. What really sets the Amazon Fresh stores apart from the big three supermarkets is its Just Walk Out technology and the in-store Amazon returns hub. The three UK capital stores are located in Ealing, Wembley Park and White City. These stores are open 7 am to 11 pm all week, stocking a variety of items from well-known brands to Amazon own brand products.
Amazon's innovative Just Walk Out technology could change grocery forever. All of the UK's Amazon Fresh stores are till-less, this means customers can save time, placing items in their bag as they walk through the store and then just walk out when they're done.
This will also save on staffing costs at the tills and this space can be optimised for stocking further product categories, creating higher profit margins.
Depending on the scale of the roll out of UK Amazon Fresh stores, customer expectations could be changed substantially, causing ordinary supermarkets to adapt or fall behind.
According to Bloomberg, Amazon is almost ready to create a full-size supermarket featuring the Just Walk Out technology. There is already an initial store being built in Brookfield Connecticut according to planning documents. The roll out of this store technology is fast-paced, not allowing traditional stores much time to adapt.
How does the store model work?
A customer enters the store using a QR code from their Amazon account so the store knows exactly which customer is entering and should therefore be charged at the end of their visit. The store's till-less model uses a variety of camera's hung from the ceiling throughout the store and there are pressure sensors on every shelf to indicate when an item has been picked up. This means that once the customer has completed their shopping trip, they can just leave the store without having to pay. Within the next few hours, they will be emailed a receipt and their Amazon account will have been charged.
What are the issues with the till-less technology?
There are of course some negatives to this tech, whilst stealing is unlikely with the mass of cameras watching every move, it's possible the system could crash one day meaning customers could leave without being charged or possibly be charged for items they did not take. Another issue that could be encountered is when a customer puts an item back on the wrong shelf. It is unknown if the software will be able to identify this, or if floor staff will need to intervene and return the item to the correct shelf, as otherwise the customer could be charged incorrectly.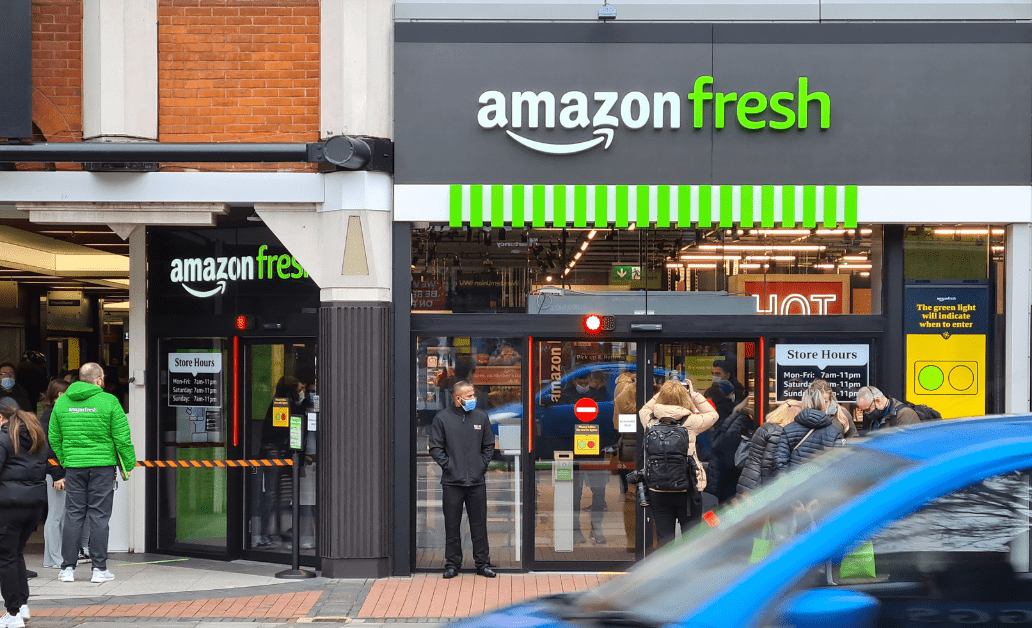 How are traditional supermarkets responding?
UK supermarkets are already tackling the threat that this innovative store model poses by investing in similar technology as Amazon Fresh. In 2019, Sainsbury's trialled the UK's first till-free grocery store in Holborn Circus. Customers used the SmartShop mobile app to scan and pay for items but the trial proved unsuccessful and Sainsbury's determined "it's clear not all our customers are ready".
Tesco is reported to have been working with Trigo since 2019, a tech company with similar software to Amazon Fresh. There has been an operational test site in Tesco's Welwyn Garden City HQ for over a year but there has been no mention of if or when this store model will be made into a public store.
What do customers think?
Many customers said they were impressed with the technology and ease of just walking out. However, other customers mentioned being frustrated with the queues to enter the store on its first few days of being open despite Amazon Fresh claiming there would be 'no queues' and others mentioned disappointment at the limited product selection. Some have questioned the suitability of this store model for the older generation who may not own a mobile phone let alone an Amazon account. In 2018, only 18% of over 75s in the UK owned a smartphone. We'll see how this may be addressed as Amazon Fresh expands to more locations throughout the UK.
"A few days ago I visited the new Amazon fresh store. When queuing there were signs everywhere telling you how to enter and masks placed in the queue in case you didn't have one so I loved that. A lot of people said prices were higher but they were actually about the same to what I would spend in my local. They had lots of Amazon brand foods and lots of name brands so there was a good selection.

The idea of having no physical people or self check tills was a little scary but I really love the idea. If you are inclined to avoid people for whatever reason then this is perfect or even if you just want a really quick shop and don't have your card. Yes I do think we should have shops with staff working tills as customer service can really make someone's day but I also feel there is a need for till less shops whether that be for people who are socially anxious or to encourage less robberies."
@tasnimfarah_j on Instagram
Discover CADS' retail planning services
Retail planning support from skilled UK-based planners, already used by some of the best-known retailers across the globe.
Get access to flexible space planning experts who work with retail planners worldwide.
Retail Space Planning
Ed Smith, Format Development Manager, CADS
'Just Walkout Technology' is a powerful purchasing tool, not only as a very convenient way for customers to pay (no checkouts) but notably enabling retailers to understand their customers' mission and in-store purchasing habits in much greater detail.

Data led technology is enabling retailers to analyse their customers' shopping habits in granular detail – product selection, dwell time, time spent in-store, basket size/spend etc.
As this type of technology becomes more integrated across retail sectors, we may see more fluid and flexible store layouts appearing on the high street. Retailers able to personalise sales promotions directly to individual customers while in store, via mobile apps. On the other hand, store layouts could become more stagnant, with the complexities of linking live data to store layouts and product placement.

While this concept won't replace the way we shop & pay in-store overnight, I envisage retailers introducing this type of technology gradually, as a complementary shopping experience/offer. Watch this space!
Rolling out the 'just walk out' technology
To conclude, Amazon is rapidly rolling out its 'Just Walk Out' technology, ensuring traditional retailers have little opportunity to catch up, but we doubt that all customers would be interested in this new way of shopping. Elderly shoppers may struggle to adopt the technology with many of the older generation without a mobile phone.
Another pain point may be the reliability of technology, if the tech crashes then the entire store would cease to function, hitting profits. It's exciting to see how retailers are pushing technological innovation. We'll be interested to see what the future has to hold for Amazon Fresh and convenience store layouts.
How can we help you?
Make the most of your retail space with our comprehensive range of services