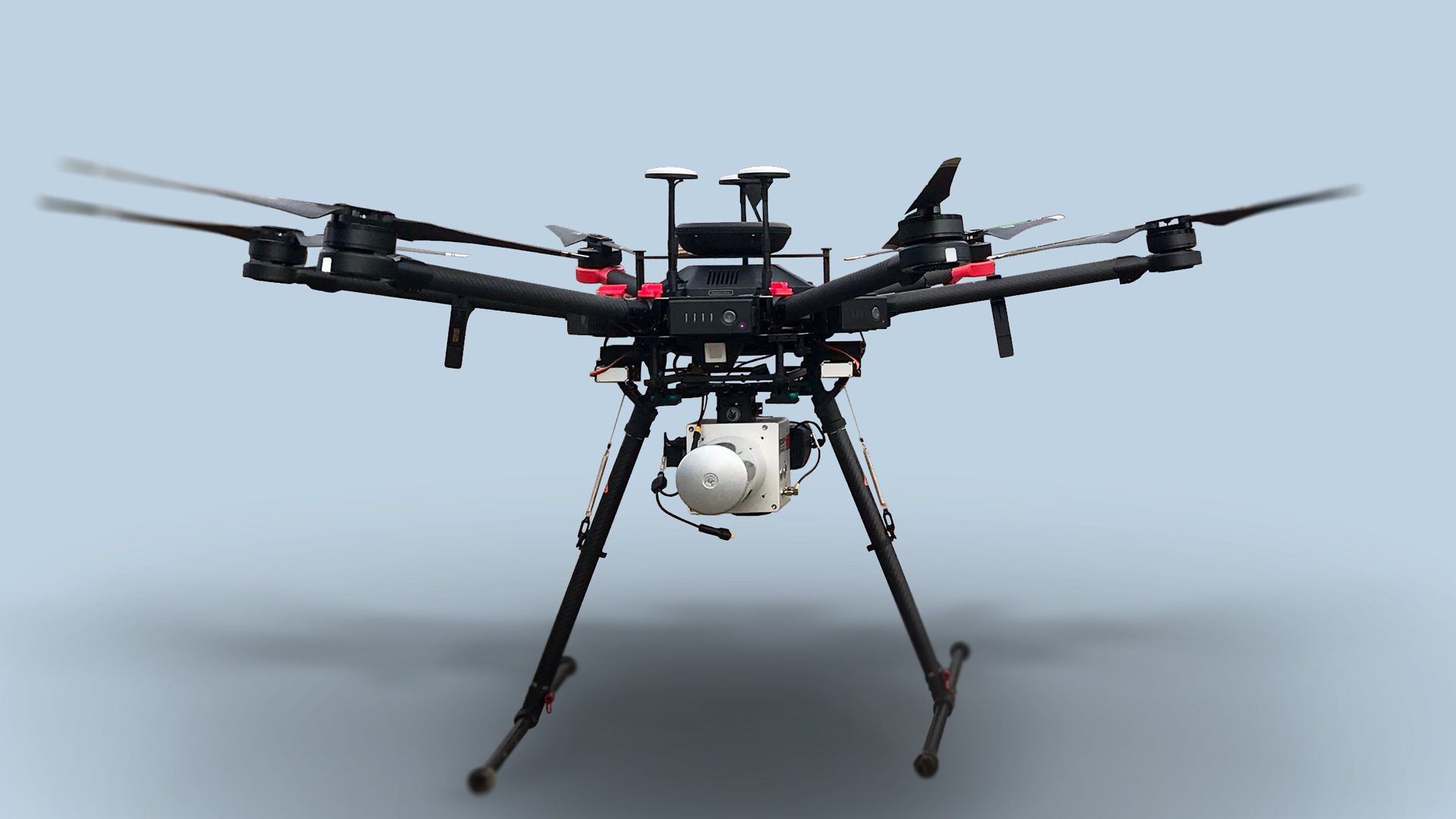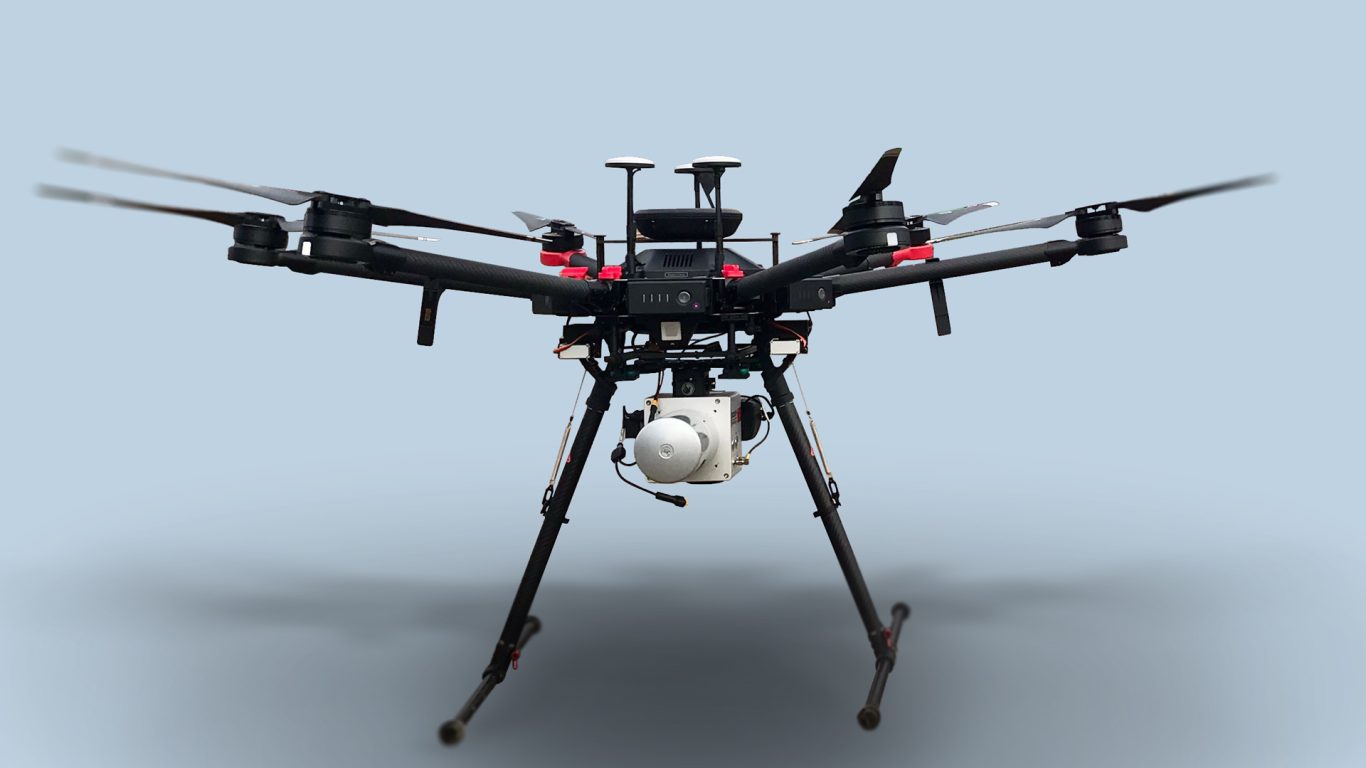 Accurate and reliable surveying services
Here at CADS, we're specialists in providing accurate and reliable surveying services for a wide range of building and landscaping projects. Following the rising demand, we have recently added drone land surveys to our extensive repertoire.
We've taken a look at how drone land surveys work, what they are used for and their many benefits.
How does a drone survey work?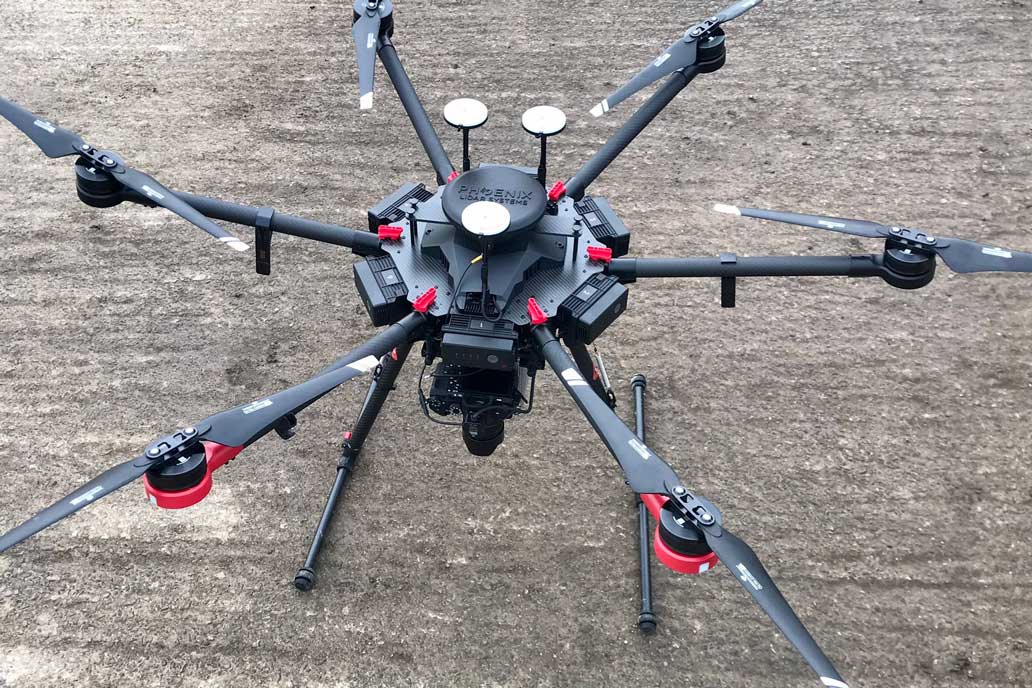 Drones are also known as unmanned aerial vehicles (UAVs).
When used for conducting a survey, they capture aerial data using a LiDAR scanner and data capture sensors which are mounted to the drone. The scanner produces a laser pulse which collects ground measurements by working out the time it takes for the beam of light to hit the ground and reflect back.
Multiple photographs are taken of the land below in order to piece together a full picture of the space. This maps natural and physical features, contours and elevations on a site.
Using the captured data, a number of deliverables can be produced. This includes both 2D and 3D formats, such as land survey drawings and digital terrain models. These are useful for providing an accurate digital representation of existing architecture and topography.
Crucially, all drone surveys must be undertaken by a person or company which is licensed by the Civil Aviation Authority (CAA). Although drones fly at a lower altitude than manned aircraft, users must still follow UK aviation regulations.
What can drone surveying be used for?
There are a number of projects that aerial drone surveys can be used for, such as:
Topographic surveys
Ideal for gathering data about natural and man-made sites, as well as both small and large land areas, a drone survey is well-suited to topographic surveys.
Roof inspections
A drone survey enables quick access to hard-to-reach rooves for inspection, therefore removing the need for time-intensive work and costly equipment.
Construction inspections
For efficient monitoring of the on-site progress of a construction project, a drone survey can be used as a quick way to get as-built data.
Property condition surveys
A drone survey can capture photogrammetry to produce high-resolution orthomosaics which enable digital visualisation of small and inaccessible areas.
Infrared thermal imaging surveys
Ideal for helping to ensure BREEAM (Building Research Establishment Environmental Assessment Method) compliance, drone surveys can be used for infrared thermal detection and thermal imaging on a building or construction site.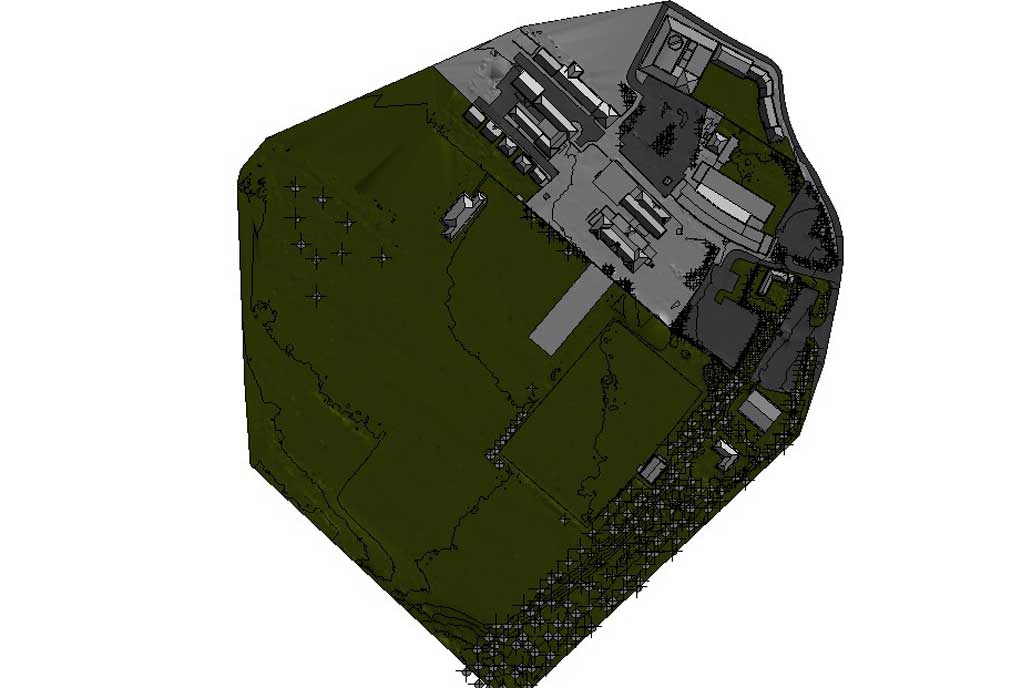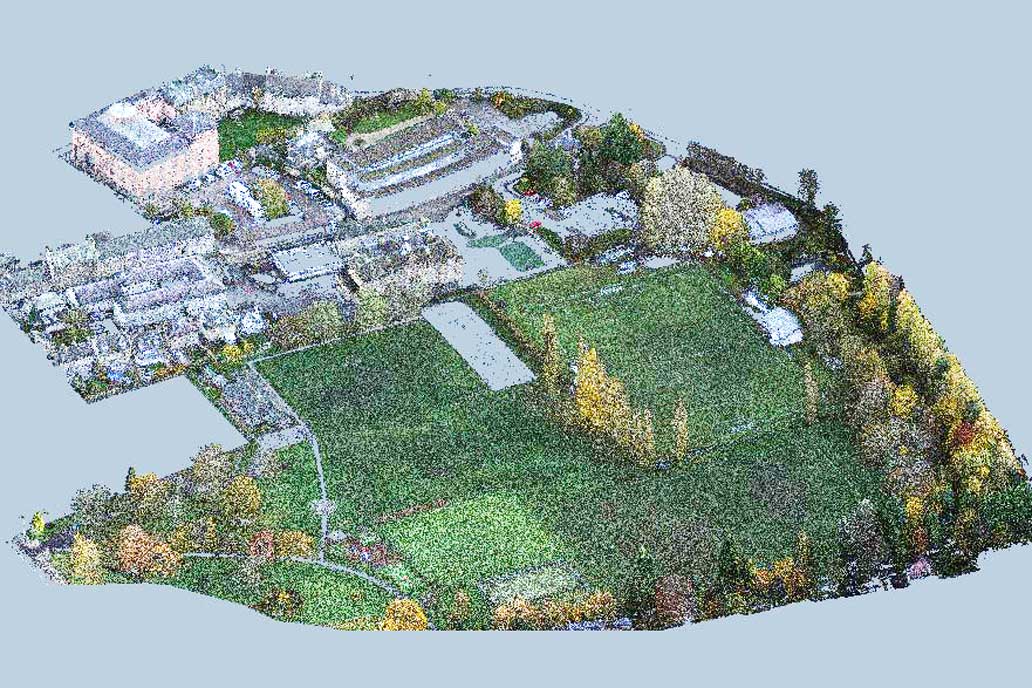 What are the benefits of using a drone for a survey?
Drone surveys have numerous benefits which make them a very valuable survey solution for many projects. These include:
Faster
Using a drone for a land survey is a quick and easy way to obtain data. This makes the surveying process more time effective than other methods such as terrestrial surveys.
Whereas a traditional topographic survey might involve two surveyors spending a week on site to collect the data, a drone survey can achieve the same results in a few hours, even on larger sites.
Also, with the data collected faster, plans and models can be created and delivered sooner, resulting in the quick turnaround time that many clients look for.
Cost effective
As a drone survey is much quicker and significantly less labour intensive than other surveying methods, it is much more cost effective.
The time in which a drone survey can be conducted means that less field time and manpower is required. This cuts the labour costs so the same survey data can be collected and delivered at a much lower price overall.
Safer Access
With use of a drone, previously inaccessible or hazardous areas can be more easily and safely reached.
Whilst there are some restrictions, such as use in densely packed areas or during adverse weather conditions, drone surveys can operate in most locations. This means that harsh terrain and unreachable areas can be captured relatively easily.
Unintrusive
Drone surveys are conducted in the air, meaning they cause much less disruption than other types of surveys.
While other survey methods require significant time spent on the ground at a location, drone surveys can be undertaken almost unnoticed, making them a less intrusive survey solution.
Accuracy
The quality of drone and camera technology has improved rapidly in recent years. A drone and scanner can capture thousands of measurements to create an accurate digital representation of a physical space.
As a result, the data collected from a drone survey is now very precise.
Need help with your drone survey requirements?
Here at CADS, we work with our aerial drone survey partners to offer accurate and reliable data from drone surveying.
Our team of surveyors are highly experienced in conducting efficient and effective surveys for a wide range of clients across the UK and beyond.
As well as our drone survey service, we provide a wide range of other surveys for architects, project managers, landlords, estate managers, design teams and building contractors. These include traditional topographic surveys, laser surveys, GIS and asset mapping and more.
Our expert team are on hand to advise you on the most suitable survey for your project.
Get in touch today to find out more.
Contact us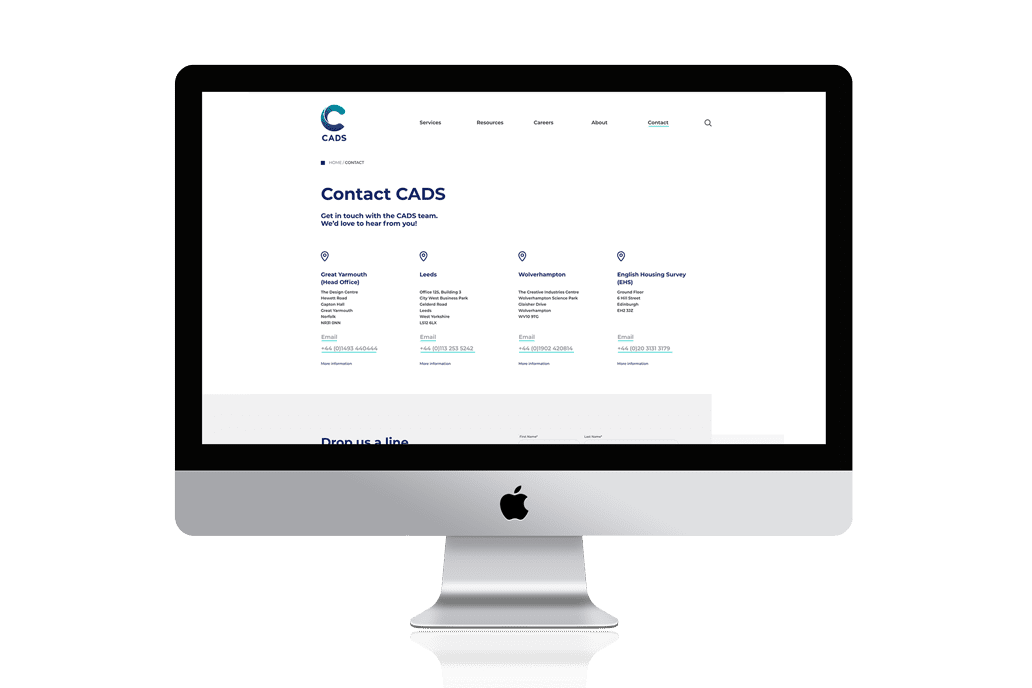 How can we help you?
Discover our range of complementary surveying services